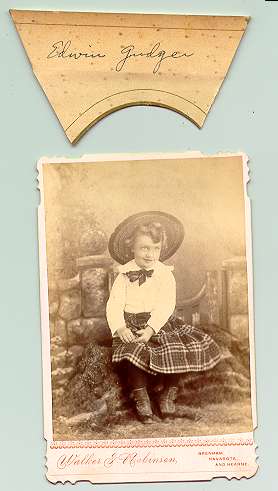 Edwin McCarthy Gudger

Photo Boy in Skirt 1890 North Carolina

Photo of Boy in Skirtin 1890 North Carolina. Old Photo cabinet card measuring 6.5"X 4.25" of, Boy Sitting by wall. This comes out of a special album for cabinet cards. At the top of the page was written the name,"Edwin Gudger". The album pages hold 2 photos back to back so I could not send the whole page, so I soaked the names off and have included them with the photo. These people lived in North Carolina and the photos are from the late 1800's. It is in very good condition. Card was produced by Walker Robinson of Breham, Navasota and Hearne. Written on the back is,"Edwin McCarthy Gudger".