Male Nail Polish News: Page 2
---
Fifth Graders business JAD Nails
Date: March 2001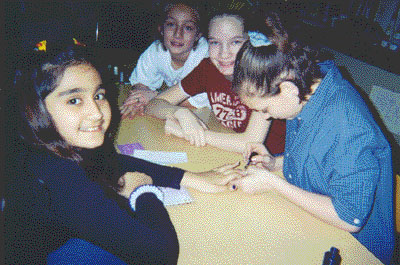 Jolene Potter, Dana Lowry and Alyssa Ermeling decorate Sara Baban's nails.>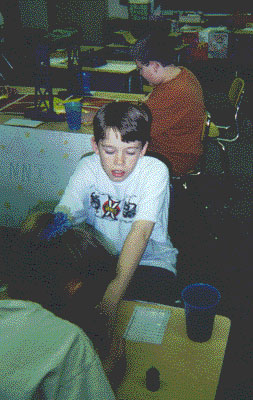 Ryan Makurat has his nails painted
Fifth grade teacher Margaret Benedict of Null Elementary School in St. Charles, Louisiana had been using for ten years the year long "mini-society" lesson plan. The Students learns lessons in ecomomics, civics and entrepreneurship by running businesses in class. The student pick the name Real World for the in class community. The money they created is called "really funny mini-money.
The students earned money to use to buy products and services from other business by doing good school works. For example, a student earns 150 "funny money" dollars by completing homework.
Jolene Potter, Alyssa Ermeling, and Dana Lowry created the most sucessfull business called JAD nails which offer full nail service. The name JAD was created from using the first letters of the girls first names. The service included applying false nails to classmates with written permission from their parents.
During a recent in class business session, many boys having their nails painted helped JAD Nails to be the busiest business. Alyssa said, "I don't think we could have made our business any better, especially for the boys."
Male Wearing Nail Polish: main page
Male Nail Polish News: 1990
Human Development database: Home Page
copyright 2002: Burton Craddock